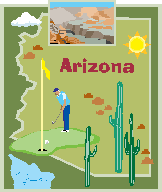 Throughout AZ Route66 in general follows I-40 corridor except the popular historic section from Ashfork to Kingman. Nevertheless AZ saw many major reroutings as well as minor changes from the beginning in 1926 and the final countdown in 1985 when the last interstate gap was closed bypassing Williams.
There are several choices to drive - the historic routings tend to be not recommended although they are driveable - but: stay alert for U-turns which can be dangerous in desert regions.
The 1926's route follows the RED lines. The first major reroutings came with the 30s (BROWN) followed by the 1940's war effort enhancements (GREEN). One of the most spectactular changes occured in the 1950's bypassing the town of Oatman following a direct route through Yucca (BLUE). Most interesting are the predecessor alignments of National Old Trails Rd (NOT). But .... you have to spend lot of time to take it all.
Most of the historic alignments fell into disuse starting with the 1950's.
Please be careful with the deteriorating old segments - they are very, very fragile.
My personal favorites are
1) The Ashfork Hill descents, 2) Two Guns site (open to the public), 3) Old Pinta Rd west of Navajo, 4) Bellemont to Williams on Mountain Man Trail, 5) Padre Canyon to Flagstaff (... U-turn alert if coming from Winona), 6) Red Gap Ranch Rd to Sunshine Overpass
You can take a virtual travel through Arizona using the following AZ atlas links :