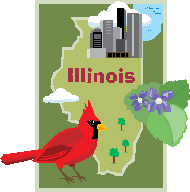 Route66 through Illinois saw many realignments until it's final decommission in 1977:
The RED alignment from 1926 started in the very heart of Chicago at Jackson and Michigan following Ogden and Joliet Rd out of town for Joliet and Gardner with what is todays IL53. On it's further way southwestbound the earliest alignment passed directly through all towns into Springfield for the State Capitol. While in 1940 (GREEN) US66 was reconstucted to 4 lanes the road began to bypass most of the settlements , but there are only 4 of those enhanced roadbeds which formed major reroutings: The realignment through Plainfield, degrading the old Joliet connection to ALT66, the opening of Veteran's Hwy around Bloomington, the Lincoln Pkwy and the Dirksen Beltline east of Springfield. The 1926s Route resp. their few 1930s (BROWN) enhancements remained as Bypass66, City66, Alt66 until the final decertification in 1977. There are some stretches all the way where US66 run close to the Pontiac Trail (YELLOW predecessor alignment). Finally, in 1957 the Plainfield alignment between Chicago and Gardner was replaced with I-55 which lost it's additional US66 certification in 1956.
From Springfield to Staunton the original Roadbed followed IL4 through Carlinville (RED). In 1930 US44 (BROWN) was realigned to todays I-55 corridor just until Hamel. East St Louis was reached with the oldest alignment (RED) passing Edwardsville, Granite City, Madison and Venice to cross the Mississippi over (long time closed, but now reopened) McKinley Bridge. between 1936 and 1965 the famous Chain of Rocks Bridge (pedestrians only) carried US66 traffic into Missouri (BROWN) while the East St Louis branches used IL111, IL157/IL203 and IL159 (GREEN) for downtown St Louis. Between the late 1950s/early 1960s, portions of I-55 were used as US66 also.
The year 1977 saw the decommissioning of the last active parts of US66 in Illinois.
You can take a virtual travel through Illinois using the following ILLINOIS atlas links :
For official historic maps of the Highway COmmision refer to IlDOT web