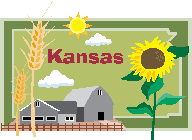 There are only few more than 13 miles of Route66 through Kansas, but it's exciting, to follow The Mother Road through the small towns of Galena, Riverton and Baxter Springs before one reaches Oklahoma.
Essentially there are three branches of Route66 in Kansas which is the only state which never saw an interstate US66 alignment during it's life until decertification in 1985:
The oldest alignment (RED) crosses the Missouri stateline just south of the Eagle Pitcher Plant for Galena where it goes to emerge with the 1940s 4-lane roadbed further south (GREEN) which is todays US400. Later on it crossed Spring River on the gorgeous Marsh Rainbow Bridge which dates back to 1923 where it turn south with a right angle for Baxter Springs.
Some minor realignments took place south of Baxter Springs in the 1930s (BROWN), but many remains of the different roadbeds are gone with the construction of a supermarket and the adjacent parking lot.
A more distinctive realignment took place in early 1960s with the Bypass of the 1923 Bridge between Riverton and Baxter Springs (GREEN - using US400 bridge over Spring Creek).
You can take a virtual travel through Kansas using the following KANSAS atlas links :