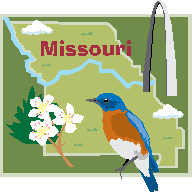 Route66 through Missouri saw many minor but nevertheless complicated realignments until it's final decommission in 1977 - only the most western part (former US166 between Joplin and Scotland - todays MO166) lost it's status in 1985.
Most confusement presents St Louis with numerous different alignments during US66's lifetime. There are three major routings through St Louis: the oldest one from McKinley Bridge to Forest Park joining and following Manchester Rd (todays MO100 - but only in parts), the 1930s Version of City66 with Riverview, Florissant, 12th, Gravois, Chippewa and Watson southwestbound and the beltline (that's north frontage road of I-270, Lindberg Bvd to Watson Rd for Pacific. It is very difficult to follow the original old Route through St Louis - you should use either the BROWN or the I-270/Lindbergh alignment.
Let's start leaving St Louis !
The RED alignment from 1926 left Dogtown on Manchester Rd (in most parts todays MO100) for Gray Summit, while the later alignments used Watson Rd for Pacific to rejoin the first alignment in Gray Summit (BROWN).
There are only few stretches in the eastern part of MO where the original alignment tries to distance itself from the interstate. Most remarkable for old alignments (RED) are the sections between Bourbon and St James, St Robert to Hazelgreen and Philipsburg to the KS stateline. Most of the original (RED) 2-lane sections were changd into 4-lane in the 1950s (GREEN) and later transitioned into Interstates (BLUE). Larger cities like Springfield and Joplin became bypassed with "beltlines" in the 1930s (BROWN) and 1950s (GREEN).
The most beautiful section of US66 can be found between Doolittle and Lebanon (famous Hooker Cut and Devil's Elbow included).
You can take a virtual travel through Missouri using the following MISSOURI atlas links :
For historic official maps of the Missouri Highway commission refer to the MoDOT web