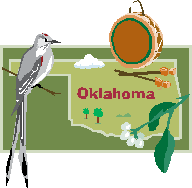 Now other state actually offers such a manifold of Route66 realignments. Most of them are still existent and drivable and many stretches are in use until today. This is because of the fact, that I-44 which eventually replaced US66 as a toll highway. West of Oklahoma City, I-40 is free and was US66 since the 1950s until it's decomission in 1985 (BLUE).
The original alignment and the later improvements are much more interesting and guarantee driving fun. 1926 the historic unpaved Ozark Trail (OZT) east of Oklahoma City was certified as US66 (RED) while west of OKC old postal Routes (OPR) did that job (RED). Starting around 1930 the original routing was improved several time. Right angles between the OZT/OPR division roads became curved, still leaving "Dead Man's Corners" because they stood dangerous for traffic. Many zig-zags were bypassed with gentle curves (BROWN). Most important shows itself the "El Reno Cutoff" of 1933 which bypassed the towns of Calumet, Geary and Bridgeport with the construction of the famous Canadian River Bridge (BROWN) which was featured in the movie "The Grapes of Wrath". This is where grandpa Joad was buried.
Many minor improvements completed US66 history starting in the 1950s ongoing until the 80s (GREEN). Routing through towns was changed several times esp. at Tulsa, OKC and El Reno which presents the fanciest old old alignment (RED) of all Route66 townships throughout the 8 Mother Road states.
You can take a virtual travel through Oklahoma using the following OK atlas links :
latest (minor) revision: 02/05/2015 - Slide 10