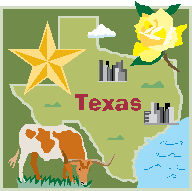 Starting west of Texola,OK the oldest 2-lane alignment of Route66 (RED) still serves as southern frontage road of I-40. Todays eastbound lanes of the interstate were added in the 1940s making US66 a 4-lane highway. Later on in the 1970s I-40 became US66 until 1985 (BLUE) throughout the whole state.
There are some exceptions of that general rule:
First of all - the infamous Jericho Gap between McLean and Groom a muddy trap which was never paved before the replacement of 1933 (BROWN - parts of form todays I-40 frontage road).
The historic alignments into Amarillo are numerous. The earliest Route zig-zagged from Conwy to Washburn to emerge with US287 for Amaraillo (RED - abandoned). The next alignment went straight westbound into Amarillo (RED) and was replaced in 1950 due to the constaruction of the Intl. Airport (GREEN).
West of the large town there 1926 alignment lies between the Railroad and the interstate for some miles until Vega (RED) - west of Vega there can't be found nothing of the old road except some remaining culverts north of the old railroad track until Adrian. The frontage road in this region is a 1930s version (BROWN). West of Gruhlkey old old Route66 crossed todays I-40 for Boise an Glenrio. This most western part of the Mother Road in Texas is undrivable or located on priate land.
You can take a virtual travel through Texas using the following TEXAS atlas links :